Why Use a Speakers Bureau?
Posted on : March 15, 2016  By  PBTalent
When businesses small and large, non-profits and charities, institutions of higher education, political action societies, religious groups, and other entities plan a major speaking event, they often resort to a professional speakers bureau to help them select the ideal speaker.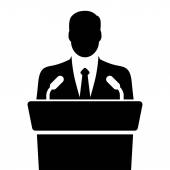 What Is a Speakers Bureau?
A speakers bureau is an organization that specializes in matching paid, high-demand speakers with the topics, event-types, and clients they are best able to serve. Some speakers bureaus will focus on one particular type of speaker or one special theme, but most have access to a large and diverse speakers' list that covers a wide swath of personal backgrounds, speaking styles, and topics.
Fields covered by speakers bureaus include: motivational or keynote speakers, political speakers, comedians and entertainers, celebrities, sports-event speakers, business experts, economists, educators, science and tech speakers, marketing strategists, and more. Events commonly sourcing speakers through a speakers bureau include: business conferences, training seminars, awards events, after-dinner events, celebrity appearances, building project fundraisers, religious outreach programs, and much more.
Speakers bureaus also generally assist their clients with all of the logistical details of arranging a public speaker. This includes such things as:
Scheduling introductory meetings between speakers and clients, facilitating continued communication thereafter, overseeing the booking process, and sometimes, doing follow-up after the event.
Helping to negotiate the speakers' fee, though the amount will depend in large part on the speaker and his/her agent. The speakers bureau also generally charges a commission on the speakers' fee.
Handling contracts, arranging transportation and accommodations, and keep everything well timed.
Providing an online portal to make finding the perfect speaker easier than ever before. The best speakers bureaus, however, will not be online-only. Traditional bureaus tend to have more hands-on experience—something that is simply irreplaceable.
The Benefits of Using a Speakers Bureau
The speaker you choose for your event will have a huge impact on that event's success and will be one of the most-remembered aspects of the event to those who attend. This being the case, it is clear that choosing the right speaker is a make-or-break decision that you cannot afford to make on the fly or trust to amateurs. Some of the most important benefits of using a speakers bureau are mentioned below:
Quick access to a wide and diverse talent pool. Speakers join speakers bureaus to access a larger customer base, and customers look to them to access a concentrated speaker talent pool. Seeking talent haphazardly or on an individual basis would be very time consuming, costly, and unlikely to succeed.
Assistance in narrowing down the field. At a quality speakers bureau, you will receive expert advice and helpful suggestions on how to pick the best possible candidate out of a large selection. As staff at speakers bureaus keep up relationships with numerous speakers and keep current on the latest developments in their careers, they will have the knowledge-base to help you make a wise pick.
A source of up to date information on the latest trends in the industry, along with a deep-seated, experience-honed knowledge of what does and does not work in specific situations. Alongside an appreciation for innovation and an unswerving commitment to conform to each client's wishes, you will benefit from the "long view" wisdom of seasoned personnel.
A greatly simplified procurement process. The speakers bureau can handle event details and coordinate time-tables. They can deal with contracts, fee negotiations, transport and accommodations. And once you become a return customer at a particular speakers bureau, the process becomes yet more streamlined. Speakers bureaus take the hassle and stress out of scheduling a speaking event.
By far the most important benefit of all in using a speakers bureau is hiring superior talent. Many of the best speakers choose to connect themselves to events through speakers bureaus, and they may not always be reachable without going through their bureau.
Cautions in Choosing Your Speakers Bureau
While reputable speakers bureaus will be able to help you plan your event and match it with a speaker who will make it significantly more successful, there are also problems that can develop when a low-quality bureau is used. These include:
Overly high commissions may be charged. The bureau has done you a crucial service and has earned its profit, but take time to check out the general market to see what a competitive rate looks like before making a final decision.
Only the highest-fee speakers are on their database. Speakers, understandably, vary in the fees they charge based on demand and the value of their time. However, a good bureau should offer a reasonable range of fee levels so clients with different budgets can still use their services.
Newer speakers barely exist on their roster. A variety, both of old proven and fresh new, talent is desirable. Look for new names and faces, lesser and more widely known personalities, and "intense variety" in the bureau's speaker selection.
Constrictions placed on speakers that curtail communication and customization. It is not unreasonable for a speakers bureau to have some criteria they expect their speakers to abide by, but overkill on contract controls and a ban on communicating with speakers could cripple your ability to organize the event. The best bureaus trust their speakers and have reasonable rules.
Conclusion
Using an experienced speakers bureau is one of the best ways to ensure you find the best possible speaker to fit your event. Matching speaking talent to specific speaking opportunities takes a large talent pool and a dedicated, highly skilled agent who is willing to work with you through every step of the process. Take the time to choose a superior speakers bureau, and choosing superior speakers will become as simple and stress-free as possible.
---
Sources:
https://en.wikipedia.org/wiki/Speakers_bureau
http://miamipublicspeakers.com/pros-and-cons-of-working-with-a-speakers-bureau/
http://www.slideshare.net/BrooksSpeakersBureau/why-use-a-speakers-bureau